THAT SPEAKS OF

Excellence to be Experienced and Savoured
Discover the flavours of the land and its fruits, the story of walls and places that capture the imagination upon first glance.
La Gatta is where the history of a land and its flavours converge.
All this culminates in rich experiences, so that you can savour the taste and excellence of Valtellina wines.
OPENINGS

The Estate is open, no booking required, from April to October, on the following days:
- from Tuesday to Saturday, from 10:30 to 18:30

WE ARE HERE

Via la Gatta, 33, 23030 Bianzone SO
CONTACT US

From Italy & World
CONTACT US

From Switzerland
Savour Valtellina wines in all their goodness, and discover their history.
Become part of a family inspired by a passion and love of the land and the excellence of its fruits.
Embrace the full beauty of its grape varieties: choose your experience at La Gatta.
Free visit
Drinks and Dinner Buffet
Lunch at the Estate
Guided Visit with Tasting
Guided Visit with Lunch or Dinner
Picnic in the Vineyard
Weddings and Events
THAT SPEAKS OF

A timeless abode
An ancient Dominican monastery dating back to the 16th century, restored to its former glory and immersed in 13 hectares of pure nature.
In the land of Bianzone, La Gatta Estate is a unique space and a timeless abode where you can enjoy moments of pure conviviality, as you discover the land of Valtellina and its wines.
With its ancient cellar and vineyard, the outdoor lounge and historical residence, the Estate is structured to provide you with a unique and immersive experience, in an authentic Valtellina winery.
The complex is immersed in nature and is the perfect setting for sun-kissed hectares, custodians of this land's excellence, just waiting to be tasted.
A flavour experience every sip and taste of the way.
Enjoy the goodness of an authentic Valtellina lunch.
With pizzoccheri, typical cold cuts and cheeses, the menu selection fully reflects the traditional cuisine of our land.
After all, getting to know a land also means discovering it through its food and wine products and culture.
Hence the unique wine selection, impeccably paired with the typical cuisine of our alpine valley.
Welcome Aperitif Selection of typical Valtellina cold cuts "La Gatta" Pizzoccheri Selection of typical Valtellina Cheeses Bisciöla Coffee & Nebbiolo Grappa
Period: April – October
Days: Tuesday – Saturday
Time: 12:00 – 14:30
Booking required at least one day in advance.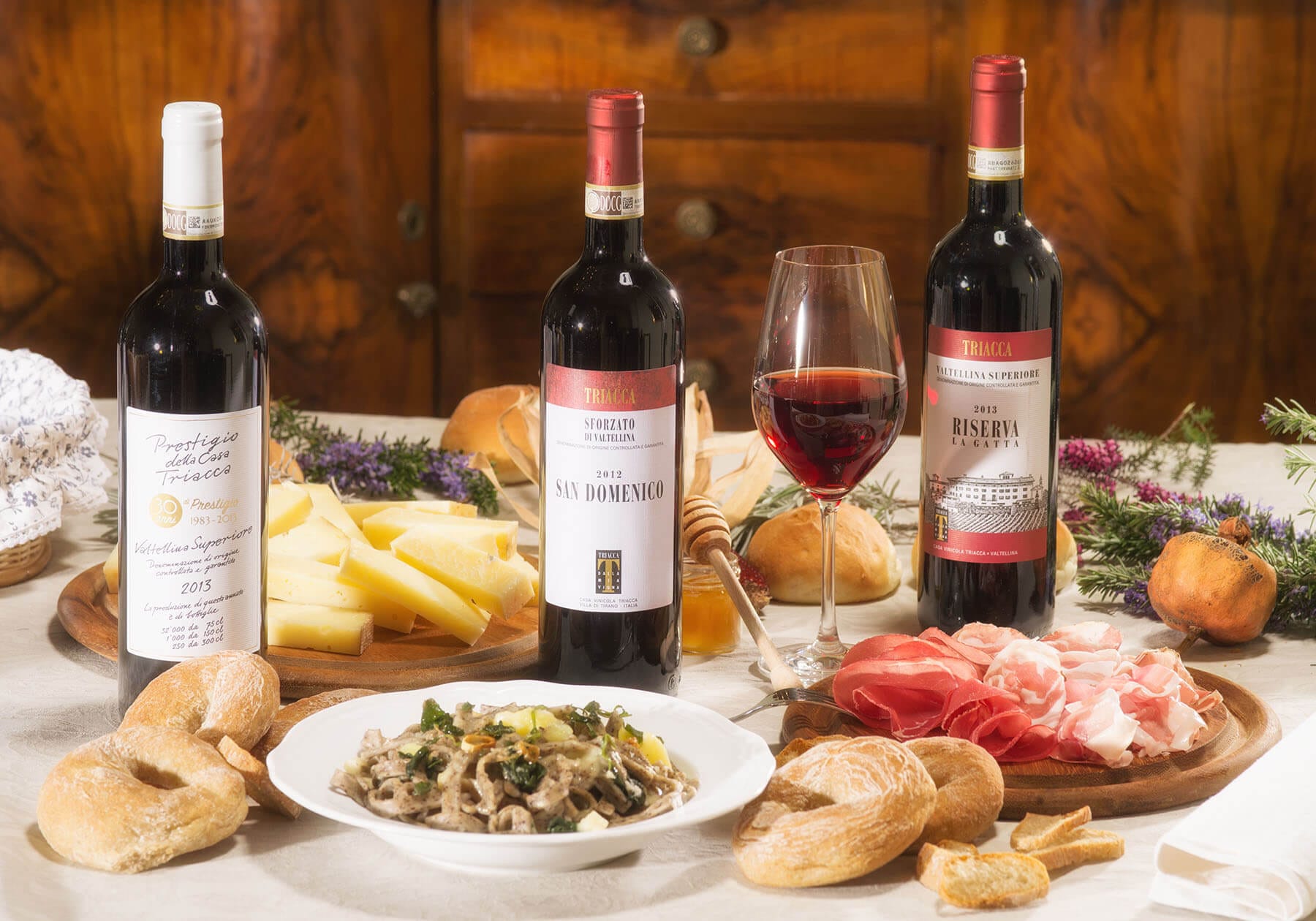 THAT SPEAKS OF

A Family and its History
Erected in the 16th century, the ancient Dominican monastery was a reference point for pilgrims hosted by monks who tended to the fields and vines that characterised this land.
Over the years the complex became the residence of the noble De Gatti family, hence its name today, before becoming the property of the noble Mascioni family.
In 1969 the Estate and its lands became the property of the Triacca family.
What has happened since? We have never stopped seeing our Estate as an infinite source of excellence, nestled in the heart of Valtellina.
In addition to innovating, cultivating and enhancing all the opportunities the land has to offer us, in 2008 we renovated the monastery, restoring it to its former glory, without ever losing sight of or undermining its style, history and authenticity.
Today, with its vineyards and grapes, La Gatta is a cornerstone in the history and prestige of Triacca Family wine production.
THAT REVEALS

The Art of Wine and Innovation
Accompanying every moment, from vine to production, working with passion and looking ahead to increasingly improve quality, brining out the ultimate expression, the pure essence and flavour of Valtellina wines.
When La Gatta became ours, the first step was to achieve compliance with certified quality.
This is why we have invested in innovation, without undermining the art of grape harvesting and wine production.
This has culminated in the rigorous selection of Nebbiolo clones, the variety that reigns supreme on the Estate, and the revolutionary technique of cultivating on horizontal terraces, also referred to as contour farming, and the sustainable mechanisation of harvesting and production processes.
With passion we have built a business that brings added value to the sector in which it operates.
WHERE

Genuine Grapes are cultivated and processed with Passion
A land that nurtures a genuine and authentic grape harvest, which is then processed with passion.
The majority of the Estate's vines are red: 90% of total surface area is occupied by the characteristic Nebbiolo variety.
6% is occupied by Pignola, 3% by Sauvignon Blanc and 1% by Pink Muscat.
At 300 to 500 metres above sea level, our vineyards fully exploit the characteristics of the soil, benefiting from perfect exposure and balanced protection.
All this thanks to the structuring of horizontal terraces and the new farming system, which involves the use of three metre high leaf walls with a 15° inclination, to maximise the potential of light and store heat.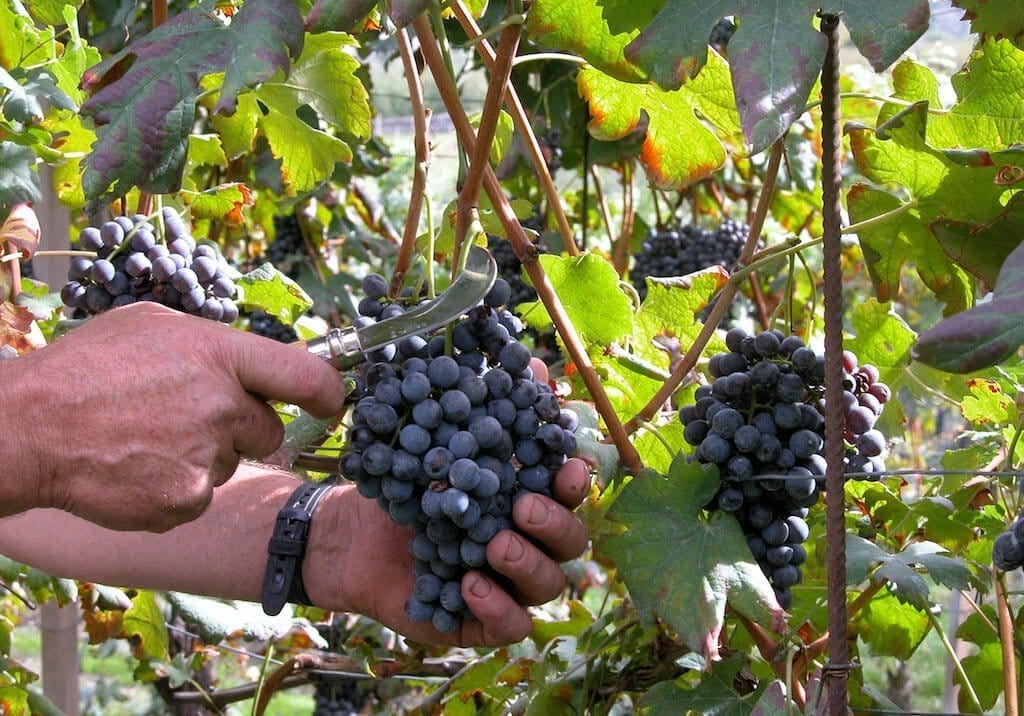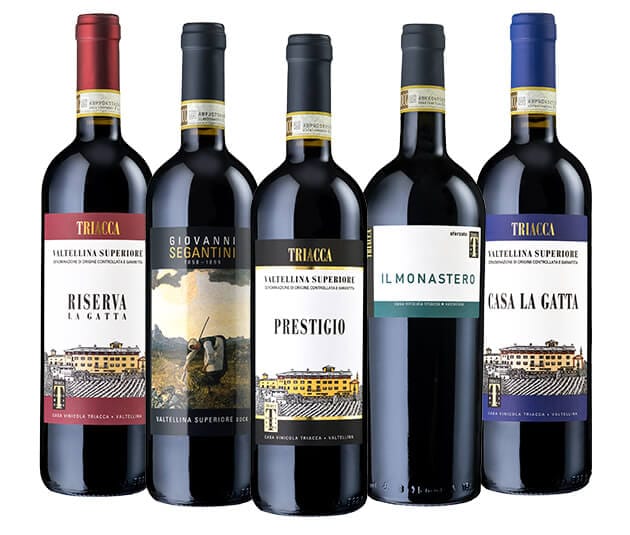 ABOUT PRODUCTION

Wines of character
Our vineyard in Valtellina, with over 40 of vine fields, 13 ha of which La Gatta, 10 ha Valgella, 9 ha Sassella, and 8 ha Tirano, produces 3,000 hl of wine per year.
Wine production takes place in cutting-edge cellars, controlled to ensure the best ageing process and evolution of our wines, every step of the way.
LIVE AND EXPERIENCE EXCELLENCE

The Vineyard Experience is Here
5 km form Tirano and 20 km from Sondrio.
Junction towards Bianzone, follow signs for La Gatta.
via La Gatta, 33, 23030 Bianzone (SO) – Italy
FIND OUT MORE ABOUT LA GATTA

Write to us here
Fill out the form for experiences at the vineyard, the organisation of private events, information on production and our wines.