Where

You Can Savour Refinement
Relax thanks to the breathtaking landscapes in which our Estate is set; stroll through the Tuscan hills amid our vine fields; savour the taste and revel in the perfume of a noble and refined nectar. Discover the history of Montepulciano and its land here at Santavenere, where the refined, world-renowned wine comes to life. All this so that you can enjoy exclusive experiences, savouring the refined fruits of our vine fields.
OPENINGS

The estate is open all year round at the following times:
From April to October

- Monday, 9:00 - 13:30
- from Tuesday to Friday, 9:00 - 19:00
- Saturday 11:00 - 19:00
- Sunday closed*
From November to March

- from Monday to Friday, 9:00 - 13:30
- Saturday and Sunday closed*
*possibility of booking for groups of more than 5 people
WE ARE HERE

Strada per Pienza 39, I - 53045 Montepulciano (SI)
Savour the noble goodness of Nobile di Montepulciano and Tuscan wines, uncovering their history.
Discover a farm and winery, built on one family's passion for oenological art, ever mindful of the need to respect this genuine and noble land.
Enjoy exclusive moments in an abode set in hills, vine fields and breathtaking landscapes: choose your experience at Santavenere.
Free Visit to the Shop and Vineyards
Guided tour with tasting
Picnic in the Vineyard
Parties and Events
Where

An Estate where enchantment and design rub shoulders
Santavenere is just short distance from Montepulciano and is set in the charming Tuscan hills.
Together with La Gatta and La Madonnina, the Estate is our pride and joy, seamlessly reconciling its charming natural surroundings with its original architecture, earning its place in the Toscana Wine Architecture project, a circuit of 25 cellars d'auteur created by great masters of architecture.
Here you can organise exclusive events, discover and savour all the flavours of our very own wines from the noble land of Montepulciano, set in typical beautiful Tuscan landscapes.
WHERE

A Family has nurtured its Land for Generations
When Santavenere became a part of the Triacca family in 1990, only 6 of its 80 hectares were vine fields.
A complete renewal and replanting project resulted in an increase of the Estate's outdoor surface area, consisting of fields and woods, and the renovation of its indoor facilities.
The new building is connected to the old one by a characteristic underground passage and is home to a new cellar featuring a decagonal design, a tasting hall with views of the city of Montepulciano, and 36 hectares of vine fields, where visitors can stroll and revel in unique moments in the vineyard, its woods and fields.
We wanted to transcend the classic standard of an Estate immersed in nature and so we created a place dedicated to wine, reconciling the beauty of a refined architecture with the functionality of its space.
WHERE

A desire for innovation and passion can truly be felt
Innovation is more than just focusing on processing and production methods: it is also about creating harmonious spaces, combining beauty and functionality.
When Santavenere became our property, we created an innovative and unprecedented project, focused on the Estate as a whole.
In addition to increasing the surface area of vine fields, with the implementation of our farming systems, vinification techniques, production and harvesting processes, we also created a new cellar, featuring an original decagonal design, which in virtue of its characteristics, has entered the Toscana Wine Architecture project, a circuit of 25 cellars d'auteur by great masters of architecture.
In addition to the principle of good wine, with Santavenere we have also embraced the essence of its prestige, reflected in the architectonic structure of our Estate.
WHERE

Rich and Genuine Grapes thrive
Nestled between Valdichiana and Val D'Orcia, from 280 to 600 metres in altitude, the Santavenere vineyards are home to Nobile di Montepulciano DOCG and Toscana IGT.
Over 36 hectares of vine fields, 80% of which are occupied by the iconic Sangiovese variety, 7% by Merlot and 6% by Chardonnay. 3% is occupied by Cabernet Sauvignon and the remaining 3% by Colorino.
Thanks to our farming and production techniques, the grapes of our vine fields optimally exploit the prestige of the land of Nobile di Montepulciano, conferring the same distinctive flavour upon the end product.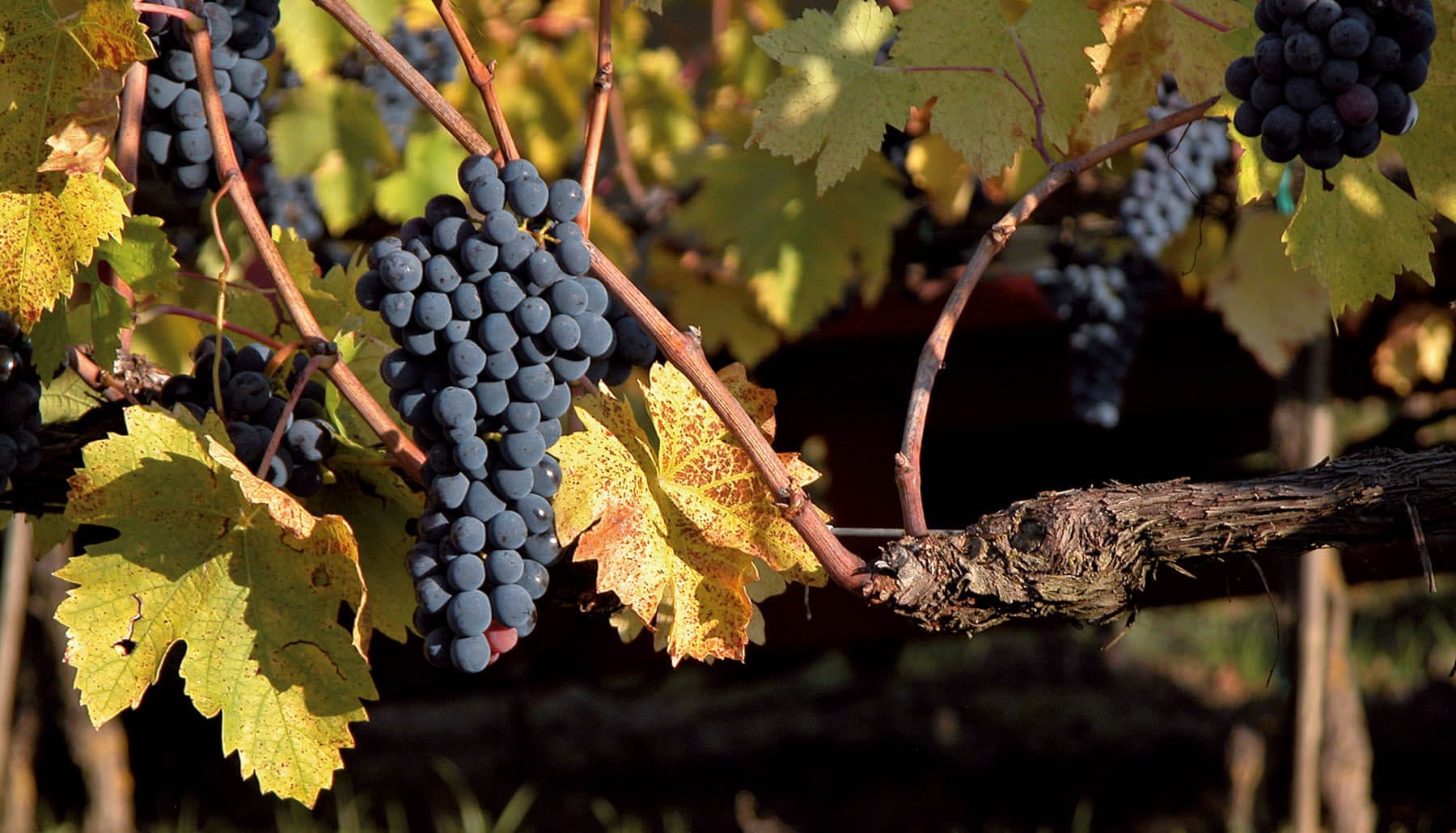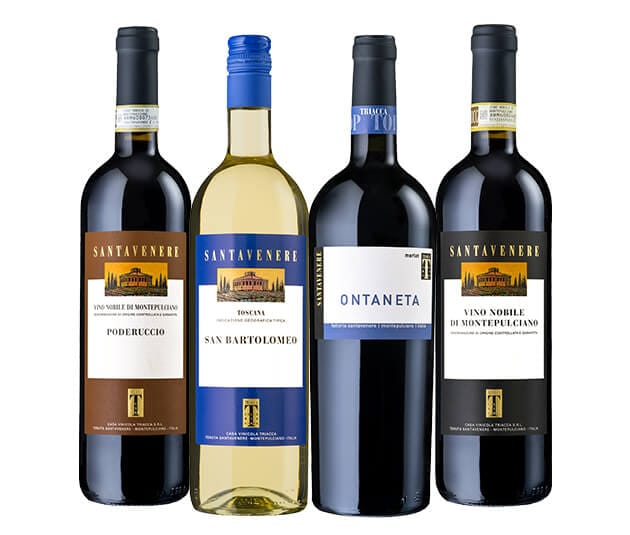 THAT CULMINATE IN A

Wine of Acclaimed Prestige
Set in the heart of a noble land, with 36 hectares of vine fields, our Estate expresses all local nuances and flavours in its viticulture production, adding a distinctive touch to red grape production, even enriching the iconic Sangiovese.
Its total annual production of 1,500 hl of wine, including Nobile di Montepulciano DOCG, Toscana IGT and Nobile di Montepulciano Grappa, reflects the quality of the terroir, which enriches products with fruity and floral notes along with a harmonious, full-bodied character.
SANTAVENERE IN MONTEPULCIANO

The Vineyard Experience is Here
Towards Pienza
Junction 2 km from Montepulciano, follow directions for Santavenere
Strada per Pienza 39, I – 53045 Montepulciano (SI) – Italy
Montepulciano

Santavenere Estate
Strada per Pienza 39, I – 53045 Montepulciano (SI) – Italy
FIND OUT MORE ABOUT SANTAVENERE

Write to us here
Fill out the form for experiences at the vineyard, the organisation of private events, information on production and our wines.